florida
Alesha
Watchowski
Director of Operations
Alesha joined O‑A‑K in 2014 after graduation and has worked her way up the ladder from Project Manager Assistant to Director of Operations. She specializes in K-12 construction, renovations, government, media broadcasting, and safety-sensitive projects. Alesha manages the day-to-day operations of our diverse Florida projects, focusing on documentation, material management, budgeting, coordination, preconstruction, estimating, and ensuring she exceeds her client's expectations. Alesha also leads training coordination and procedural processes throughout O‑A‑K.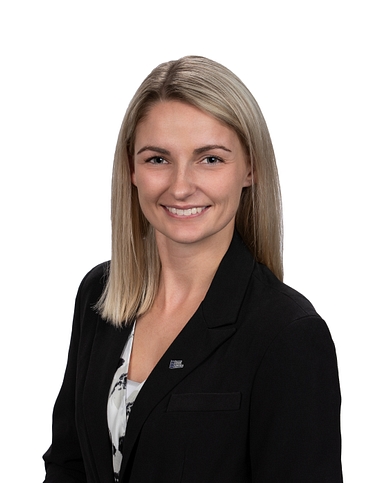 WHEN DID YOU REALIZE CONSTRUCTION WAS THE RIGHT CHOICE FOR YOU?
Not understanding what the construction industry was about, at a young age, I thought being good at math meant I was supposed to be an engineer of sorts. I took some engineering and drafting classes in High School, and I enjoyed it but it still didn't feel like the right fit. I took a leap of faith in college and enrolled in a Construction Management program and I quickly found my stride. Getting to hone in on my true skillsets, with construction management, I knew that construction is where I belonged and I had found "that" career where you're excited to go to work. I am constantly fueled by the atmosphere and people, the challenges, and watching our hard work being built in front of my eyes.

WHAT DO YOU DO IN YOUR FREE TIME?
I really enjoy going to Orangetheory Fitness and of course spending time on the water with my husband and our dog Keiko. But I definitely still don't tire of just hanging out next to the pool with a book, either.

WHAT HAVE YOU LEARNED WORKING AT O‑A‑K?
We all know how important it is to build relationships with our trade partners and our clients, and O‑A‑K does a great job of that. But I learned very quickly how important it is that we build our internal relationships as well. O‑A‑K has a great culture and we produce very successful projects, and the only way to continue that is by getting to know our teammates and working on a very respectful and ethical level at the same time.

Alesha and her colleagues at O‑A‑K always complete their projects on time, within budget and scope, while keeping our quality standards. This firm understands how to manage various types of projects while keeping the students and faculty safety in the forefront.
Alesha Watchowski and Kaitlin Schafe look over plans on the job site
Alesha Watchowski and husband Brandon enjoy paddleboarding along Florida waters with their dog, Keiko.
Alesha Watchowski looks over some campus improvements with clients.
Alesha Watchowski inspects some school campus improvements on a job site.
Alesha Watchowski talks with clients at the site of a project.
Alesha Watchowski serves food at a subcontractor appreciation lunch on the job site.
Alesha Watchowski and husband Brandon enjoy paddleboarding along Florida waters with their dog, Keiko.
Keiko Watchowski loves paddleboarding with her family Alesha and husband Brandon.